So, yesterday Sean and I decided to drive West for a long time. It was warmish, and kinda cloudy, but good driving weather. We do this every summer, just go off on drives. That's the most depressing part about gas prices, now it might actually be cheaper for us to go on a cruise than do this all the time. We could both get bikes, but you can't listen to mix cds together on bikes, or point out the really creepy billboards you see.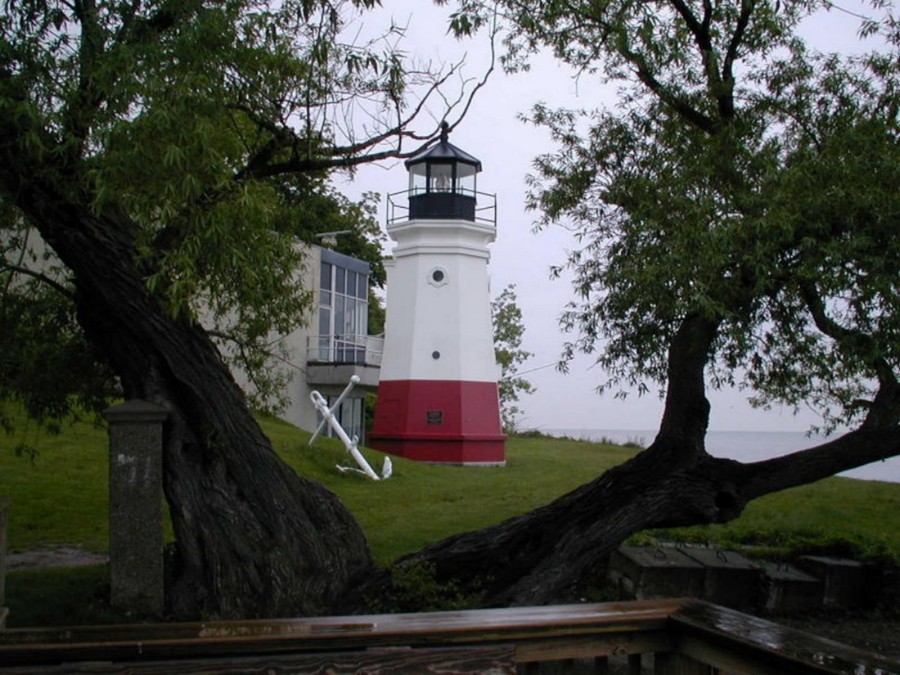 First, we drove through Vermillion, which is my favorite town in Ohio. If I spend the rest of my life in this state, I want to live here. It's quaint, it's clean, the houses aren't crazy expensive, and there's my lake no more than a bike ride away wherever I live. Now yes, technically the lake is also only a bike ride away from where I live now, but the bike ride in Vermillion is a lot prettier. My dream is to work at the Great Lakes Maritime Museum there, see boat insurance to pay the bills, and be able to buy chocolate covered potato chips anytime I want.
This dream only works if I live right in the center of Vermillion, because any closer to Cleveland and I'm living in Lorain, which is a pretty name for post 80's hell.
So we kept driving through the Firelands, and then to around Huron, OH where off in the distance I spotted a great big round building and said "Let's go find that!"
So the top of that is what I saw in the distance. I was of course expecting some chemical plant, since really ominous looking buildings in Ohio are usually chemical plants. We drove one way, find a connecting road, and then a dead end. It was blocked off with barbed wire AND a concrete barrier. Took another road, same thing. Tried to go around the side, more barbed wire, more concrete. Every road into this place was blocked off.
We get a little freaked out, cause there's no signs anywhere except on the fence it says its the property of NASA. But you know, you would expect an employee's entrance, usually with a sign saying the name of the place. Uh-Uh. We tried every single direction, the entire perimeter, and there was nothing. Only really nice expensive houses in the middle of cornfields, and we couldn't get a better view than the top of the globe and the smokestack, plus a weird firetower looking thing, and all the flashing radio towers. My theory at this point is that all those NASA employees have entrances in their basement. Or you have to enter through the Army Reserves base.
It's Plumbrook Station by the way, they do space simulations for rocket firing, testing for cryogenics, and they have some hypersonic tunnel there. There is no way to enter from ground level.
Not a mere 30? miles from that is the Shrine of the Sorrowful Mother. We were going to go to Seneca Caverns, advertised as the "crack in the earth", but they're not open till May. Here's what the Bellevue tourism site says about the Shrine:
"Founded in 1850, it is the oldest place of pilgrimage dedicated to Mary in the Midwest. Paved walkways, winding among tall and colorful oak trees, lead to the Stations of the Cross and to the replicas of Lourdes and Sepulcher Grottos - favorite places of prayer and meditation.
The shrine also provides a popular cafeteria service and picnic area."
There's a bunch of little statues and grottos that rich people from Cinncinati and Parma have donated over the years, my favorite one was this one
Next we headed to Bucyrus, Oh, self-proclaimed Bratwurst capital of the WORLD
No, that's a not a bratwurst. See how I need a camera?
In Bucyrus we played the game "Find a black person or really any person of any ethnicity ever", and we lost.
We did however spot the guys who are singlehandedly keeping Disc Golf alive on their own. I'll let you google that one on your own. Their car, from Michigan!, was covered in probably every single discgolf promotional sticker that's ever been made. And also some Hillary stickers, and one Dio sticker.
We headed home through Mansfield, got to the Next Door Deli by 9, got pizza and watched Michael Clayton. Then caught a special performance by the GAYEST STRAIGHT MAN LEAD SINGER ever, Patrick Monahan of TRAIN. You know, they do that "Meet Virginia" song that makes your ears bleed? He was PRANCING around the stage, but according to Wiki, he's been married twice.
The End.